Hi guys,
Just blowing my own trumpet in this post really..
In March 2016 I acquired a completely seized and almost unusable 1990 MZ ETZ 251 for £100 from a friend in the MZ facebook group, simply asking for offers. I only really wanted the bike for parts, namely the exhaust pipe (original) and the carburettor. It had on the clocks 29,900 miles on it.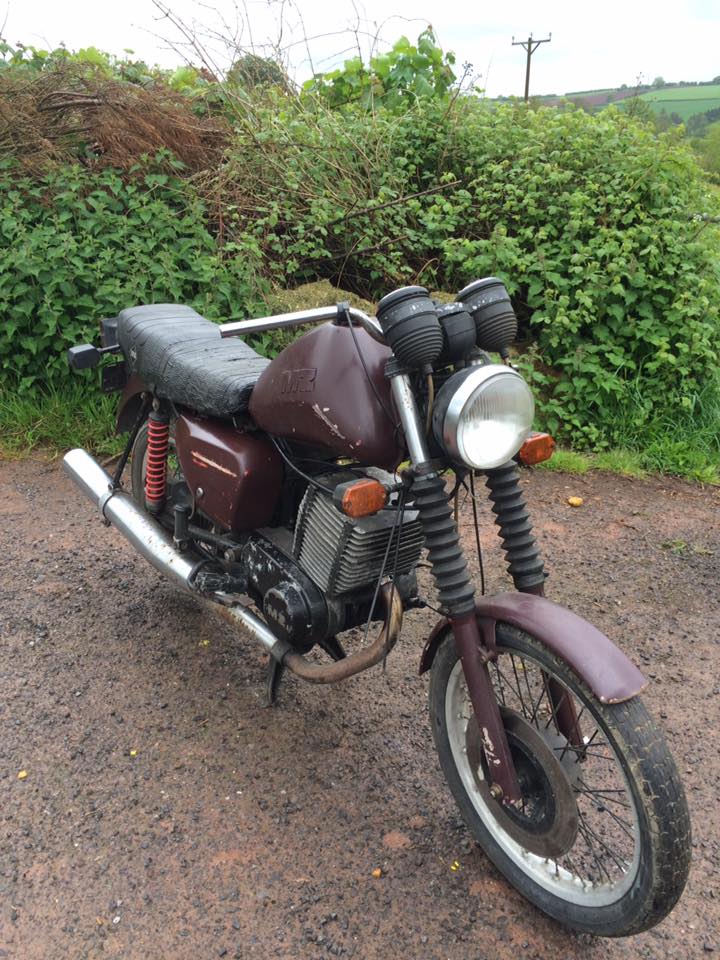 It soon became apparent that It seemed it wouldn't need a lot to get it on the road, and especially as I don't have a garage where I live, I thought I would put it on the road and use it as my commuter.
So first thing first was getting that seized piston out and after a lot of banging with the hammer, I got a very poorly piston out of an equally poorly barrel. It seems that the bike had been off the road for 13 years before I got it, and water had got into the barrel. Luckily the water did not leak down into the crankcase, as the piston was stopped in a position where by all the ports were blocked by the piston. But it was very rusty in the upper of the barrel and the piston was totally unusable, especially after my banging it out.
I put on a spare barrel and piston that I had, which was quite worn, but I said to myself that it was only going to be a temporary measure.
Then I couldn't set the points, namely because the points didn't open at the correct sparking angle, unless the gap was set at around 3mm. I continued to use the bike for a little while however, and I used to break down about twice a day (from and to work). I would notice that the points would stick open when the bike stalled and associated as that being the reason why it stalled out. After a few unsuccessful attempts at buying old and reproduction electronic ignitions I purchased a polish kit that has worked perfectly ever since installation. I did however find that it was still stalling, and after a while I got it down to the coil being the cause. I took my other MZ's coil and all seemed well! I finally had the machine at a stable and reliable state. And other than a speciality in blowing bulbs for the first few weeks it was great. I had decided that my goal with this bike was to spend as little as I could, using what I already had to get it on the road, like a round (twin bulb) rear light unit and an indicator from a 250, and the like.
I must mention that at this time my '87 ETZ 250 had thrown a conrod bearing and I was therefore using this 251 constantly. I had reservations regarding the quite poor performance, and the fact I had to replace the clutch cover as he kickstart stop had been smashed and engaging the rachet. I did notice that the clutch had been apart in it's past, and the end of the crank was quite mashed. The clutch worked however so although I knew it might need to be looked at in the future, I ignored it for the time.
Soon after I took the bike to Turkey on a round trip of 5,000 miles, where I made very little preparations for the bike. I already had a rack, but was broken in a couple of places, which was welded up, as well as the tank mounting flange and seat base also being welded. Where it did extremely well! It was happy at a constant 70mph, and I had no issues at all other than mis-firing when it was raining. Not the type of thing you want when you're in Greece, needing to get to accomodation in Bulgaria, but in total it only rained three times so it wasn't a big issue. I was surprised that I didn't even get a puncture! And I often travelled over 600 miles a day. The spares I took with me didn't get touched, and the spares included voltage regulator, points (incase the electronic ignition failed), wires, rectifier, I didn't even get a puncture, despite my foresight to bring both a 16 inch and 18 inch tube with me as well as repair patches. I went through a gallon and a half of the cheapest two stroke oil. I was using 30:1 ratio pre-mix. The clutch cable snapped just 40 miles from home, (it had been stretching for some time and the final adjustment I made snapped it).

I did crash once (dog ran accross the road), and despite the fact I came off at 30mph, the only damage was an indicator lens and a bent footrest (It was raining just previously so is simply slid quite nicely down the road), which I resolved when I got home a few days later. I.e bending footpeg back (and grinding the burred edge away) and fitting replacement lens.
[img width="800" height="600"]http://blurredmanswebsite.ddns.net/pictures/bikes/mz251/leftbul.jpg[/img]
Anyway, the time has come whereby the machine is going to surpass the (according to clocks) 40,000 mile mark and it was a self goal that I set. I have a number of things I wish to do with it, because at the minute it is quite a chore to ride. I have made a list of what is wrong, and what I need to do to it:
1) I have the original barrel re-bored and a new piston to go onto it.
2) I need to rebuild the clutch - and therefore flatten the end of the crank somehow to be able to pull it off..
3) The front wheel is twisted and pulsing, the handlebars wobble considerably.
4) the rear drum is oval,
5) The engine in itself seems quite fruitless and does not deliver power in a pleasurable way. This could be because it needs a piston that doesn't slap (I will measure the gap when the engine is apart), but this could also be because of the engine being generally quite worn- it has had a very hard life it seems, with the new piston being a 4th oversize!
6) Electrical connections need to be renewed as I am now fighting a constant battle with charging/electrical issues from the generator.
7) Gearbox very clunky!!

It does not rev out fully.. It can achieve 75mph, but even in lower gears at lower speeds the engine revs out at around 5k and isn't generally a happily revving bike.
So, 10,000 miles in 1.5 years, and the bike needs considerable work being done on it, and the 'temporary' barrel and piston replaced again with original.


In general though, I am very pleased with the motorcycle and cannot complain. But I have finished rebuilding my '87 250 (bearings, crank etc- and a 1st oversize 300cc piston) and I cannot wait to ride it as it is a MUCH MORE pleasurable motorcycle to use, regarding power delivery, Gear selection is very pleasurable, suspension is nice, brakes are not warped etc. I just need to get some run in miles done on it